The Halloween crew...Kiki and her crazy friends. They're all good kids. Everyone took these cute trick-or-treat bags and Kylie takes that giant pillowcase lol...
Kylie begged for this dress...I thought it was too expensive but in reality, I've spent way more on fabric for home-made costumes so I gave in ($40) . Then I had to figure out how to make a hoop skirt...but she got so many compliments and it made her so happy. Plus, not too many years left of having to buy her a costume. Do kids dress up in junior high??
I was soooo sick when we were putting this costume together. The shirt is 2 Goodwill shirts put together, and a felt collar (thank goodness I keep scraps). The cane (thanks Cori!) is a Christmas candy cane decoration, cut down with a Dollarama skull stuck on the end. I think this is the first time that Jake really took charge of his costume. He allowed me to help, but he was the boss. He was very happy with our creation :) .
Sammy Sunshine just would not sit still for pictures, so this is the best one. Once she saw that people were giving her candy, that was it!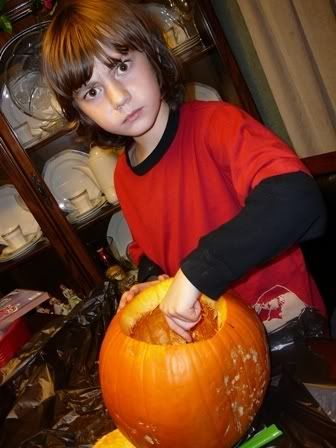 Always has to make a face for the camera...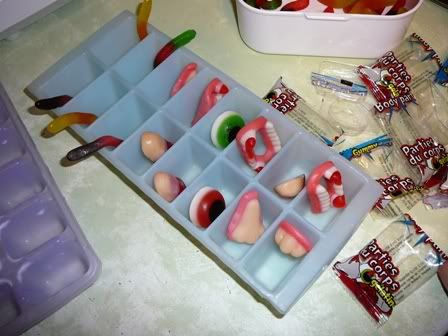 You know, every year I try to come up with these fun snack ideas to make for the class party and every year we end up making the same thing at the last minute: green Kool-aid ice cubes with gummies in them, in a big stock pot full of strawberry Fruitopia. This year I was sure it would be different lol.
The doctor I work for told me to take home some surgical gloves for the kids to wear trick-or-treating (H1N1 precaution). Scott blew them up into balloons instead.
And this is a picture of my baby crying. She's not crying because someone drew a moustache on her with a marker, she's crying because I wouldn't let her play with the camera.
10 points to anyone who can guess who drew the moustache on my poor baby. Bonus points if you can guess what kind of marker the perpetrator used (permanent or washable?) .