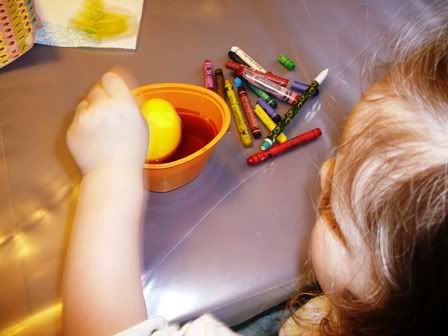 Sam could not get enough of the egg dyes this year. Forget doodling on the egg first, gimme that dye! It is an annual tradition for me to forget to buy a vinyl tablecloth for egg decorating, so I was lucky that the contractors left a big roll of vapour barrier in my basement. Not pretty, but it passed for a tablecloth :) .
My God, what a good meal today. I peeled and mashed 10lbs of potatoes, thinking that it was way too much...nope! It all went...along with the ham, roasted carrots and other yummy dishes. My sister's husband, Amir, took us on a long windy walk after supper to burn off some of those calories. Still...I think I'll be working extra hard at my workouts this week. But it was *so* worth it :) .
The kids are home for one more day, then it's back to the grind. Does anyone else in the world get tomorrow off *except* for school teachers? Even the bank is open tomorrow. There's so much on the to-do list for this week. The bathroom drywall should be started this week...so that means next month in Contractor Time, right? Poopie.