I don't think I show too many pictures of our back yard...there's not much to show. When we moved here, it was overrun by crazy lilac hedges and raspberry bushes. I came home one day from Wal Mart and my mom had come and chopped everything down lol. Scott built the raised garden bed for me, using lumber from our old front stairs that he recently replaced. We have garlic chives, 2 tomato plants, a whack of strawberry plants that Old Pearl planted on the other side of the yard 50 years ago, and a bunch of the cutest little pea plants you ever saw. It's traditional around here to plant on the May long weekend, after the risk of frost has passed, but it was still snowing into late May so I didn't plant anything until just a few weeks ago.
Sammy Sunshine watering the garden...she's so helpful :D .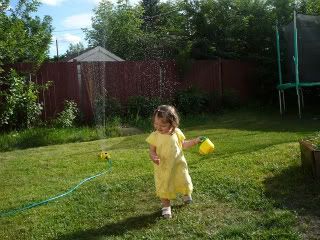 I taught her how to dig up the anthills with a stick. I think she could do that all day long if I let her.