Jake is going through this creative phase, where he wants to craft and bake a lot. Anyone who knows Jake will tell you..."wow, that's not like Jake at all!" lol. But it's cool, and I'll never turn down a crafting opportunity with my boy :) .
Jake heard about duct tape wallets from his friend so on a recent trip to Home Depot, he chose some red tape. I picked up a roll of black for myself, because I was silly enough to leave my previous roll laying on the counter, and someone used it to tape empty cereal boxes together to make a robot...to tell the truth, my duct tape is normally stored in my underwear drawer with all of my other precious items. Clear, black and white tape are always on hand. Always.
Anyhoo...we found the instructions to make our wallet
HERE
. We added a clear ID pocket and a zippered coin pocket.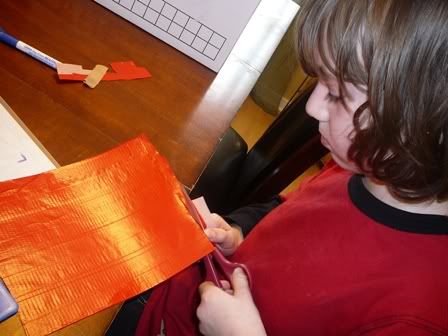 ...and the outside.

Scott helped Jake add the letters and the flames. Turned out pretty cool, don't ya think? I asked Jake to make me a hot pink one for Mother's Day. I hope he remembers :D .