I hesitated posting this video favourite of Jake's...and not because the video isn't appropriate for him to watch...it's because those boobs are obviously soooo fake. The first time I saw this video, I thought: I wonder why this poor girl's self-esteem is so low that she feels that, in order to make a name for herself in the entertainment industry, she has to dance in a crappy video in a multitude of bikinis. But then again, if I had her body, I think I would do everything in a bikini. Jake just likes the song, which is odd, because it's nothing at all like the hard rock that he usually goes for.



This is Kylie's current favourite. Big Bang is her favourite band right now (the boy band in the video -- this is a duet with a Korean girl band). I loaded her mp3 player with a whole bunch of their songs the other day, and she takes it to school and her and the other girls giggle and dance all over the playground while fighting over the earphones lol.



This is Sam's favourite, she hears the doink-ing sound (I don't know how else to describe it) at the beginning of the video and drops everything to run for the computer. Actually, I really like this one, too. It reminds me of when New Kids were cool (now they're just old people, like me).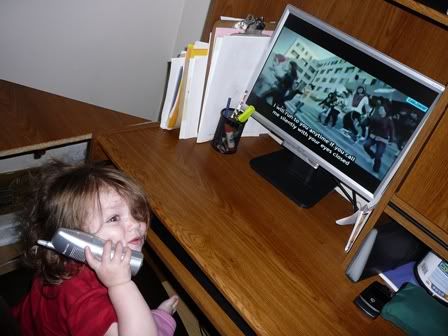 Look, Sam's on the phone, telling all the monsters on Sesame Street about her favourite boy band :D .