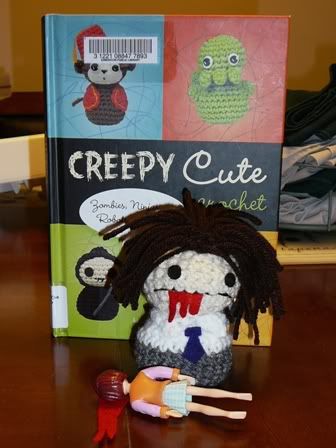 This is Rick. Rick is a corporate zombie, from the book
Creepy Cute Crochet
. I borrowed it from the library, but I really, really want this book for keepsies. Rick is my first crochet project ever, and as soon as I opened this book and saw the instructions I knew I had to make him for
Cori
, my bloggy friend. Because she appreciates the finer things in life, like zombies. Crocheted zombies eat Polly Pocket brains, did you know that? Poor Polly...she didn't even see it coming :( .
This guy is a
Cthulhu
, which is some sort of mythical creature, from the same book. I know what you're thinking...you're thinking, "could you please use that word in a sentence?"...to which I would say, "Oh no, there's a cthulhu in the cookie jar!" .
I've also been working on some crocheted 'sponges': that's one thing that I've really wanted to end my addiction to, those stupid Dollarama dish sponges with a scrubby on one side. I know they will probably outlive humanity in a landfill somewhere, and that has always bugged me. So I have been frantically crocheting double-thickness, four-inch square "sponges" with a skein of cotton yarn from Wal Mart. No, I don't like crocheted dish cloths. I don't like how floppy they are. I like that a sponge just sits in my hand and doesn't flop all over the place. They're working out really well, I'm pretty happy with the way they've turned out. I can't show you a pic, because I've used them all now and they don't look half as pretty as when I first made them lol.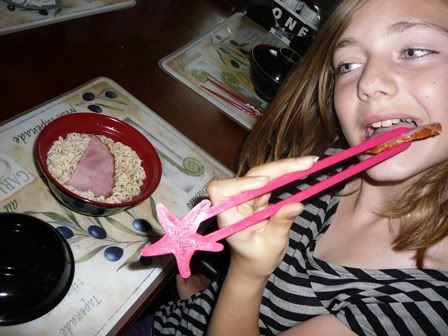 Ponyo noodles, as Kylie calls them. We went to see
Ponyo
a few weeks ago, and now Kylie is obsessed with ramen noodles cooked in those covered bowls (am I the only one that didn't know that you pour boiling water over ramen in these bowls, put the cover on, and then in a few minutes you have cooked noodles???) . Anyway, we had to run all over Chinatown looking for these bowls. Yes, we tried T&T and they were out. Anyway, Kylie is using the cheater chopsticks because she was super hungry and didn't have the patience to fart around with the usual chopsticks.