Kinder Christmas concert, 2003. I think this was with our very first digital camera. Kylie is wearing the red sparkly dress. Hide from me at your Grade 6 concert, will ya???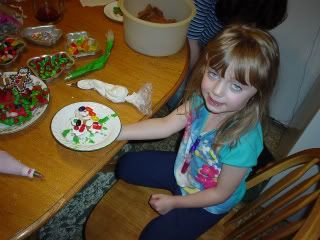 Cookie decorating, 2003. Wow, you've come a long way!!
Getting Candyland at Gramma's house. We still have that game, although no one wants to play it anymore. I'm sure by next year, Sam will play it with me :) .
(sigh...stupid Photobucket is being retarded and won't resize the pics)