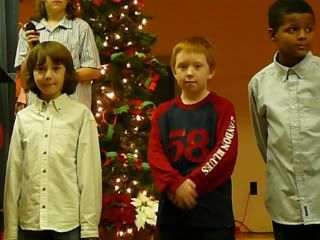 Jake and 2 of his BFF's at the Chirstmas Concert. The rest of my pics are horrible...and no pics of Kylie. This is the first year that she wouldn't dress up (wore the same dirty t-shirt that she wore all day long to school and jeans) and she was in the back row for everything, ducking down in front of the kids in the row ahead of her. I swear, just to get her back, I'm gonna find all of the really cute kinder Christmas Concert pics and post them here. Yeah, that'll teach her.
Cookie decorating. Sam loved using the icing bags, but would not let me stick even one Smartie or chocolate chip on a cookie. She'd scream, "No, cookie broken!!! Get it off!!!" if I tried lol. Oh, oh! And you know what's really awesome? Every year I say I'm going to buy a little house cutter and I forget...so Scott made me one. He used an old apple shaped cutter, and bent it into a house shape using plyers (a la
Filth Wizardry
). Awesome.
Sam's first craft :) . I love this junk. She pushed beads onto a pipe cleaner, and then I twisted it into a wreath shape. I love that she can do this stuff now. And she was so proud of herself :)
Ba ha ha...a kid I went to Kinder with did this: stuck her tongue to a pole in the school yard. I don't really remember what happened afterwards, but I do know that I learned not to ever do that myself! Anyway...we watched A Christmas Story on Christmas Eve and Jacob stayed up until 11...which is really odd because he usually can't stay up past 930. I guess he was a little excited :) .