New basement bathroom. Still, even though it's been done for a little while, it feels weird that the first room in this house to get a total reno is the basement bathroom.
Jake's sink: zombie theme. Images from:
vector4free
, printed onto stainless steel-esque Mac Tac from Dollarama.
"Brains!!!"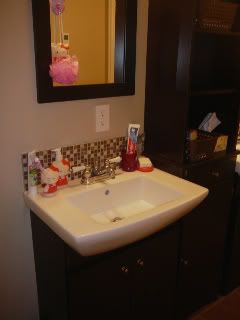 Kylie's sink is, of course, Hello Kitty. She picked chocolate brown towels and Jacob picked a dark grey. First time I've bought bathroom towels since...actually, I've never bought them before. We got some really great quality ones when we got married 15 years ago and they're still in great shape. Thank goodness for bridal showers.