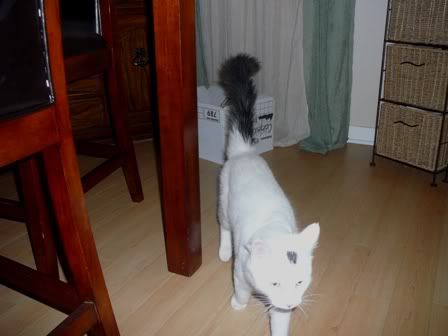 This kitty wanted to come in so I let him. Sam followed him around, and he sniffed everything...then he wanted to go home so I let him out. I had to take an allergy pill after he left, but it was worth it because Sam had lots of fun showing him her room. "Dis is my toy box...and dis is my floor...and dat is my closet!"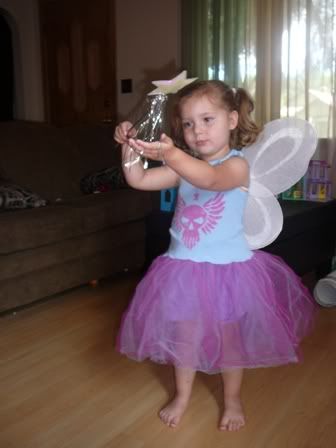 My fairy princess.
What happened to summer?? I wonder if it will come back before fall comes...
The coolest fabric ever, purchased at Wal Mart in Maui at $5 a yard. One of the blue ones will be a scrub top for work (the one with the surfing ninjas!), and I think the other blue one will be a dress for Sam. The grey one is Kylie's, and I'm not sure what she's going to do with it yet. The idea of a tote bag is being tossed around.
I did a bunch of work around the house today, cleaning Jake's awful room and doing lots of laundry. Scott took Kylie for a ride on the bike and then he got called to an accident near Lloyd...a young lady turned in front of a semi on the Yellowhead. How awful. No matter how bad you think your life is...life has to be absolutely awful for that poor girl's family this evening.