Tute, Tute!!! Chugga, chugga, chugga, chugga...lol...
I am a big believer in making due with what you have, and if that means that you have a stack of hand-me-down pants that are too big for your child, then you just have to fix them up so that they fit.
Jacob is a big jeans guy, but most of the jeans that I have for him don't have the fancy-pants adjustable elastic waistband that is just the bee's knees. My kids *hate* belts, and I don't blame them. Yuk, I don't like them either.
So this is the fixit I came up with. Enjoy :) .
Step one: assemble your sewing ingredients. You will need:


one inch twill tape: I normally use black, but today we are using white so that you can make it out in the pictures.


3/4 inch buttonhole elastic


two 1/2 inch buttons


coordinating thread: I usually use specific denim thread in the bobbin, so it doesn't show, and black in the spool
I usually chop off the belt loops, as it is just makes it a little less bulky for my machine to sew through. You can leave them on, if you're confident your machine won't hate you for it. But you're going to sew through them, so they're basically useless. And for us...Jacob always wears big baggy t-shirts that cover the waistband anyway. Onward....
Measure from inside seam, across the back, to inside seam.
My measurement is 13 inches...so add one inch to that...and I will need 14" of twill tape.
Add two inches to that to figure out the elastic measurement...so I will need 15" of elastic.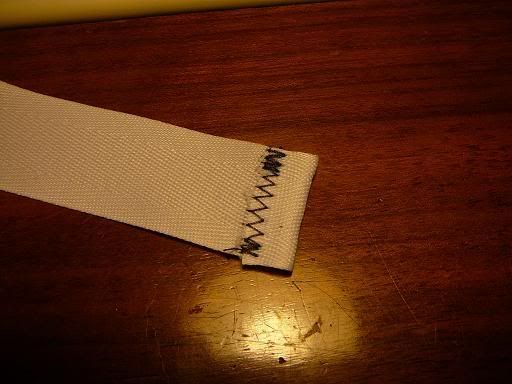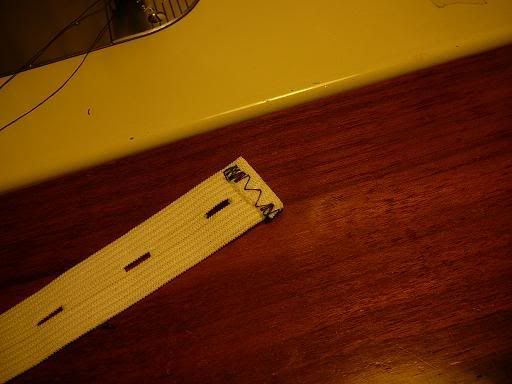 Oh my gosh, what a horrible looking zigzag! I do apologize lol. You may want to use coordinating threads for this step, but I'm lazy and just use the black/denim combo that I listed earlier. Fold under approximately 3/8" on both ends of both the elastic and the twill tape and zig zag.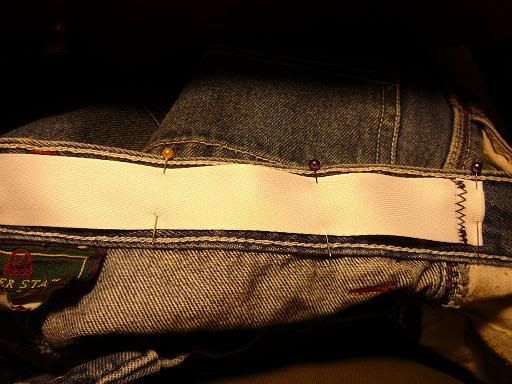 Now pin the twill tape to the jeans waistband, lining up the edge of the twill tape with the side seam. The raw edge of the twill tape is touching the wasteband, although it's hard to tell from this picture. Sew that puppy down. I use a long/narrow zigzag, just taking the smallest bites of the twill tape. Make sure to backstitch the ends like it's going out of style...those ends take a lot of stress. Thusly:
Next, sew the buttons at either end of the twill tape, about a quarter inch away. I use my button foot, you can do it by hand...whatevah.
The only thing left to do now is feed the elastic through, using a safety pin, and then button it down. Then bribe your boy to stand still long enough to try them on, so that you can adjust the elastic.
Elastic waistbands in the hiz-ouse!