Oh my gosh, I can't believe it's Friday already! Back to work tomorrow...
Today, we decorated eggs. I always did it as a child, and now we do it with our kids. Scott's sister and brother also partook (is that a word?)in the festivities.

Wanna know how to get the perfect hard-boiled egg?
This is how we do it:



In a large stock pot, cover a single layer of cold eggs with cold water. Add a couple of splashes of vinegar (it keeps the shells from cracking, although we did have one out of 36 that cracked anyway).




Put the pot on the stove, uncovered, and turn the burner to medium-heat.




Wait for what seems like forever for the water to come to a light boil.




When the water starts to boil, turn off the burner and cover the pot. Set the timer for 25 minutes. When the timer goes off, take the pot off the stove and drain it. Set it somewhere for the eggs to cool.




Store the cool eggs in the fridge until you're ready to colour them.
Now to dye them:
add 1/2 cup of cold water to a bunch of old coffee mugs. The dye might stain, so be forewarned.




add 3 tbsp of vinegar to each cup. Add a few drops of food colouring and stir.




draw designs on the eggs with wax crayons or pencil crayons, then lightly place your egg in a cup of dye for a minute or so. Remove with a spoon. Drain on paper towels.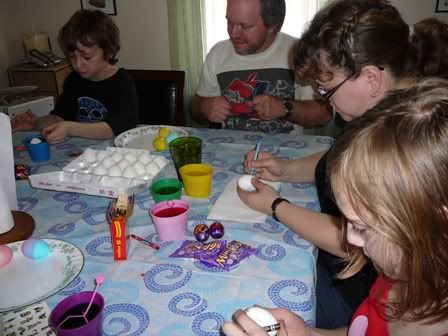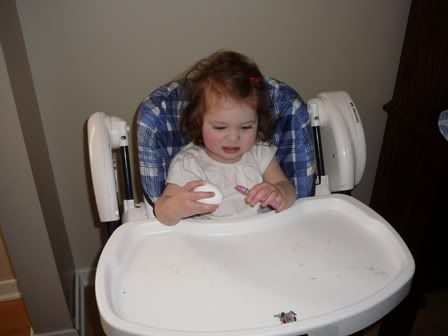 This year was the first year that I had a store-bought kit for egg decorating...silly me, I thought my kids would like it. It turned out to be super-useless, as it had one red dye and 3 purple dyes...where the heck was the yellow? The green? Didn't matter anyway, Kylie said "those kits are dumb, Mom"...rolling her eyes, as if I didn't know that already!!! Little bugger...