Did I post this pic before??? I don't think so. I loved, loved, loved this fabric when I first bought it, and trimmed it with a brown polka-dot fabric to match the big brown dots...now it's a touch crazy for my tastes. And my sister pointed out that it was a bit pysanka-ish, so perfect for an Easter dress lol!
This is Uncle Terry, Scott's brother, colouring eggs with Jacob. He's such a cool uncle...always has time to play with Jacob, when some people forget that the poor little guy even exists :( . Jacob lubs him to pieces. He's such a cool uncle that he brought
this
for my kids for Easter: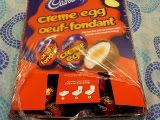 Yes, that's right: an entire case of Cream Eggs, and an entire case of Mini Eggs. He works at a warehouse and got a good deal or something...anyway, it's all in the freezer now to go into lunches. It should carry Jake into junior high, right? Jacob is still saying, "Mom, remember when Uncle Terry brought us all that chocolate? Remember?" . Yes, buddy, it was
just 2 days ago
...
I don't remember if I posted this before, either...Uncle Terry's old Spiderman t-shirts upcycled into a cozy blanket for Jacob. Jacob wouldn't let me wash it for a while, because he said it "smelled like Uncle Terry". Goofball kid lol.