Scott and I just had our very first vacation together, without any kids, since before Kylie was born! How very exciting. And now I get to bore you with the pictures lol.
We stayed at the Jasper Park Lodge, in Jasper (of course) which is super-duper fancy. A bowl of cereal cost $10, the same price as a beer...which I find absolutely stupid. But I guess you pay for the view, right? We were attending an insurance adjustor convention, so we got tons of free post-its, pens and lanyards to make up for the crazy prices.
...the lobby...fancy, huh? Freakin' stuffed, dead animal heads *everywhere*.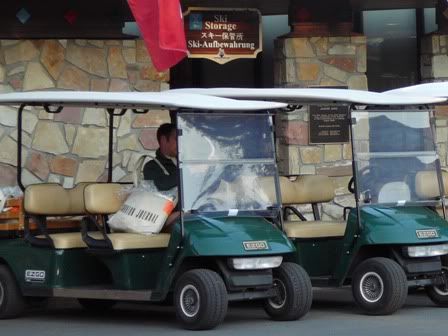 Golf-cart porters. These guys just sit outside, waiting to take you to your $300 per night cabin. Well, it wasn't really a cabin...more like row-housing. The rooms were teeny and hot, no air conditioning and it just happened to be really warm when we arrived.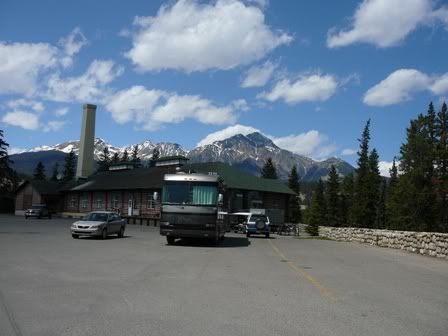 I *think* this was the staff quarters, but I'm not sure...but note the breath-taking view of the Rockies in the background. I don't think I could ever get tired of that.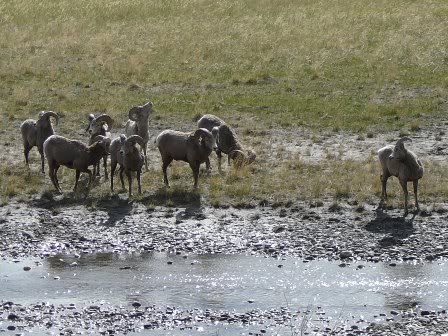 Are these bighorn sheep? Mountain goats? What do you call these things? We saw tons of them...no elk or bears though.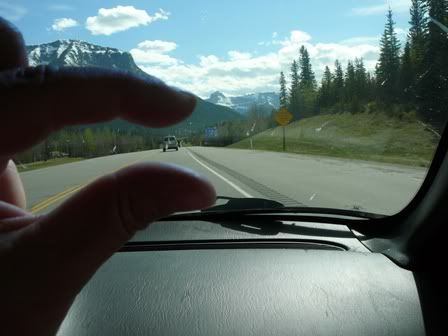 And this is a pic of me crushing the car in front of us.
It was a fun trip, and we were so lucky to have my husband's sister, who is a rockin' Auntie, and my mom to watch the kids while we were gone. I think it will be a while until we go somewhere without the kids again...I just missed them too much.
Oh, one more pic:
Kylie, in the parking lot after the Koshashin exhibit at the Edmonton Art Gallery. But more about that later...I also have a meme to respond to and an award (yay, me!). Tomorrow is the year-end free hot dog lunch at school as well as track and field day, and I have to finish off a few PAC reports. Busy girl, I am!