Some pics of our vacation in
Drumheller, Alberta
.
This is a 6 story-high dinosaur by the pool, you can see it from all over town. I stayed at the bottom with Sam while everyone else went up.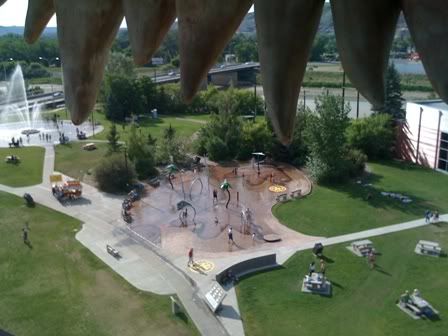 View from the top. After Sam ran around the splash park for a while, we went swimming at the Aquaplex. I'm realizing that we go to the pool a lot...we went to a neat pool in Calgary, too, but I don't have any pictures.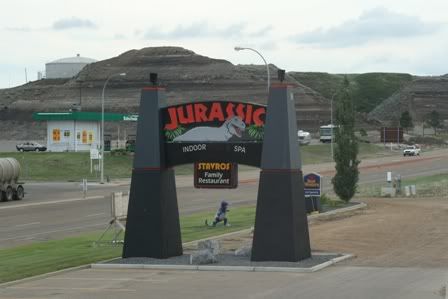 Our hotel...The Jurassic Inn lol. It was so clean...I love Best Westerns. I can 'almost' take my shoes off when I'm there. Almost, I said :) .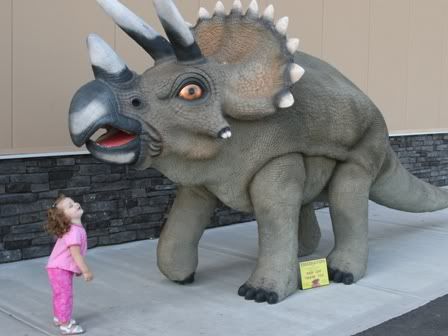 Sammy Sunshine at the
Fossil World Discovery Centre
. Rawr. This place was cool, Sammy just ran her but off inside, there was nothing she could reach to break...it was meant just for kids, it was lots of fun.
It's a bone!
Now it's...Gumbie???
Digging for fossils. Each kid, even Sam, got a bucket with a shovel and a big paintbrush. If the kids dig deep enough, there is a large fossil under the sand, the length of the pit. While they are digging and brushing the sand away, they fill their pail with all sorts of cool-looking fossils. When they have had their fill of digging, they get to keep one of the fossils that they found, their choice. There was also a panning-for-minerals station and a rock-climbing station.
Lookit, I'm famous: my artwork is on display (the one on the top) :D .