Jacob built a tent for Sam out of blankets and chairs...I love that Aqua Doodle, the neighbour gave it to Sam for Christmas. Sam is drawing people with arms and legs, and crazy hair that sticks up everywhere--kind of like herself lol.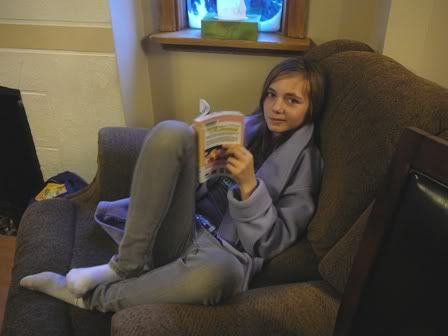 Kylie with her nose in a book, as usual. She still hasn't decided on a Junior High yet, so we will be going to 2 open houses come March. I can't believe how fast this has come up on us! Seems like just yesterday she was starting
Kinder :( .
Sam, playing in the sink...her favourite activity lately. If I want to clean the bathroom I just throw some bubbles and a few toys in there and she splashes and has a blast. Darn it, I'm going to miss this bathroom sink: the drain pipe is cracked so we have to replace it. I know the cold water tap/hot water tap thing is sort of a pain in the bum when you have kids...but I love this old junk.
This is what I was doing while Sam was splashing: I was sitting on the toilet, working on replacing yet ANOTHER zipper. No word of a lie, I have replaced 9 zippers in various coats and snowsuits in the last 2 winters. I swear, they make these things to last no longer than 3 months. And they're all in brand new coats, not the previously-enjoyed stuff from VV or Goodwill.
Now I'm just wondering how long it will be until someone will ask me if I was pants-up or pants-down as I was sitting on the toilet...lol, it was pants-up. The Jolly Roger p.j. pants are mine :) .
So tired...time for bed. Later, taters :) .