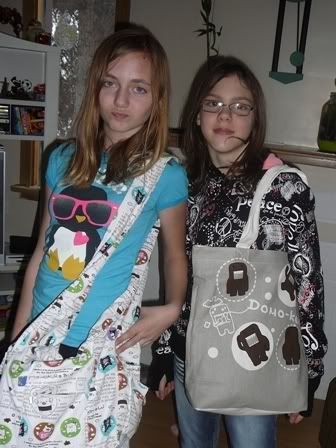 Kylie and her BFF, sporting their new tote bags. We had gone to West Edmonton Mall in search of
Tokidoki
stuff and ended up at House of Bags, a little kiosk in the mall (Phase III). We did find a Tokidoki bag but Kylie fell in love with this cute flying pig bag instead. The bag is printed with the same saying, over and over again:
"I made a nice dream under the stars sky. You flied to me suddenly."
LOL...that makes no sense at all. Kylie's friend M picked up a Domo bag. Now I've got the big idea in my head that each bag requires a matching crocheted coin purse. Ugh.
Speaking of crochet, I've noticed that it's almost as much fun to buy new yarn as it is to buy fabric (which I don't buy anymore). I already have a Rubbermaid tote filled to exploding with various acrylic yarn...then I discovered crocheting with cotton. Luuuuuuuv it. I would like to toss all of my acrylic yarn in favour of cotton. So expensive though :( .
Next time I need varigated yarn, I'm going to try this:
Josie's post on dyeing wool with Kool-aid
. I had no idea you could do that. Another project to add to the "need to try this" file...along with the projects in this book:
...I just picked it up from the library today. There is a baby robot, a geisha robot and a zombie robot, among others. They're cuter than all get-out, aren't they??

Well, back to the crocheting. I'm hoping I can have the girls' coin purses done for Valentine's day. Eek, that's on Sunday!!