OK, someone please tell me this purse is cool, even if you don't believe it. I paid $6 for it at VV and was really happy, as it is big enough for all my junk. Then my friend showed me her $200 Fossil bag and now I have a bit or purse envy going on. So my purse is cool...right ??? Right???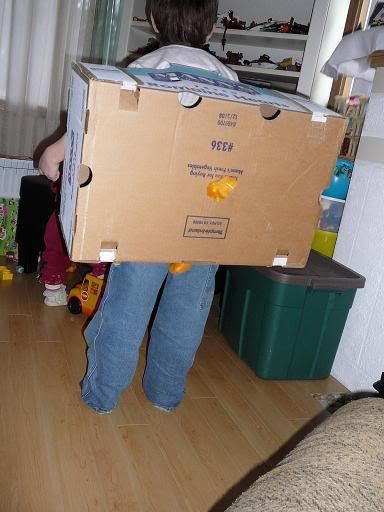 More adventures with Costco boxes. "Look, Mom, I'm a cat!", Jake exclaimed. Um...ok, you're a cat??? If you get this, please fill me in, as I have no idea how he's a cat with a box on his bum...
This is how Sam plays with Jake. She takes him by the hand, pushes him to the floor, and sits on him. Then she smacks him, pulls his hair, tickles his belly and tells him he's stinky (" ooh...kinky!" she says, as she waves her hand in front of her face). And he lays there and takes it, because that's the kind of big brother he is :) .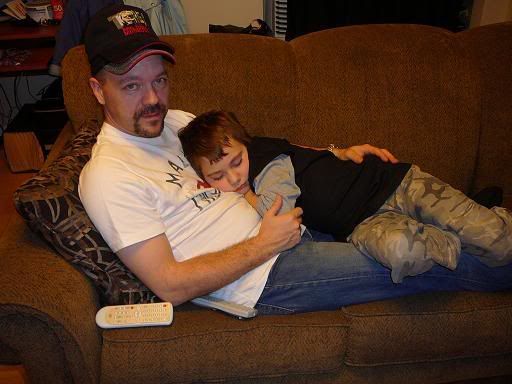 Not too many of these opportunities left...the big kid falls asleep on the Daddy. Please note that my husband is wearing two baseball caps at the same time. No, he is not Peruvian royalty...he merely found some great hats at Goodwill that day and couldn't decide which one to wear, so he wore both at once. Something else I don't get.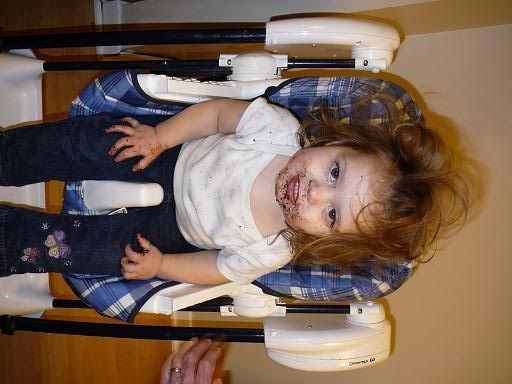 Sammy had a fight with a cupcake and it looks like the cupcake won.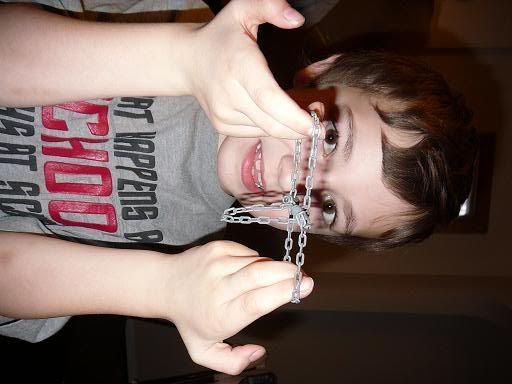 Alright, guess what this is. Jake made it out of some plastic chain, but I'm not going to tell you what it is that he made. And I don't have a prize to give you, you just get 10 points. It's none of my business what you do with your points :) .