Ok, seriously...I've had that post title in my head for
three and a half years
!!! LOL...*sigh*...
finally
.
There just aren't enough pirate-themed rooms out there. Who says that you can only do a pirate theme in little kid's bedrooms??? Huh???
So after nearly 4 years in this house, I picked up some frames and laminated the kid's art work so that (hopefully) the moisture doesn't wreck them. Matted with scrapbook paper (because God knows I won't use it for scrapbooking lol) and decorated with stickers. Kylie did the treasure map, and Jacob did the Jolly Roger flag. The sign above the pictures was bought for 60% off after Halloween at Michael's and I love it because it announces a "booty contest" in my bathroom lol. I apologise for the poor pictures, I was trying to cut down on the reflections in the frames.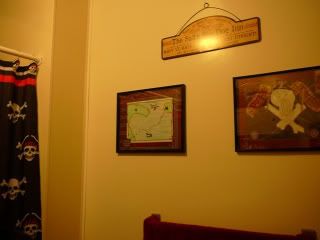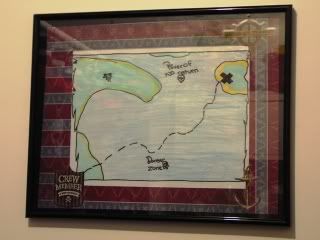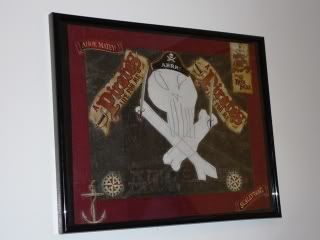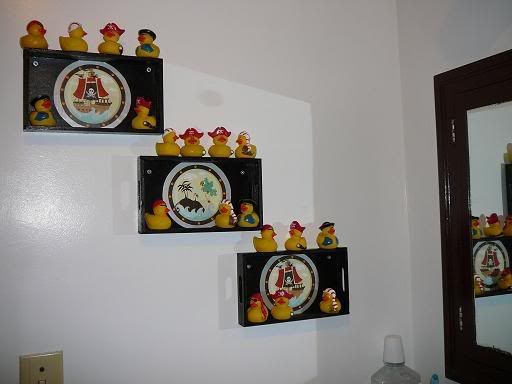 I went to Home Depot, looking for skinny shelves for my pirate duckies, and didn't find a stupid thing! I really despise that place. Not the point lol. I bought these little wooden trays from Dollarama and painted them black, and Scott figured out the placement. I still need to paint the screws black so they don't stand out so much, but I am onto other things. Get off my back already lol!
...oh, and I put this really stinky air freshener in the bathroom that smells like coconut and cherries. Now it smells like a tropical island. Maybe it should smell more like pirates? Ew, can you imagine???