This was our pinata, if you can believe it. I had left the pinata up to Scott, all he had to do was paper-mache a giant balloon from Dollarama and paint it grey. That was to be our Death Star pinata...the balloon was 4' across when fully blown up. But it didn't work out, and I know my poor hubby tried his hardest, so that's ok. In the end, we bought 2 extra-large Batman gift bags from Dollarama, put one inside the other, filled it with candy and stickers and taped the top shut. It worked out pretty well, although it didn't last as long as a paper-mache pinata (which I know I could have bought, but I couldn't see the reason for spending $15 on something that was just destined for the garbage). But everyone got a couple of turns on whacking it, when the biggest kid at the back of the line smashed it *but good*. I think I will use this idea again when Sammy is a bit older, I think it would be perfect for pre-school kids or even kinders.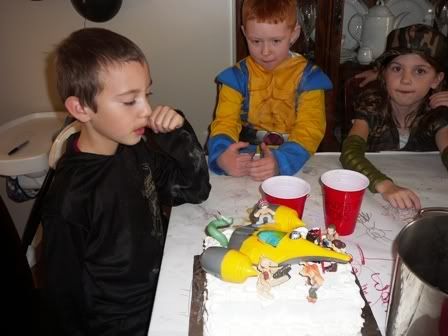 Jake's cake. It was his idea...he wanted me to make him a white cake with white icing, and he wanted to decorate it with his Star Wars characters. It was tasty...junky white cake-mix cake is my favourite.
The little blonde Batman in the picture, his name is Scott...which just makes me what to 'quish him even more when I see him LOL. Hee hee, I wish he was mine!!! Oh my gosh, he's the cutest thing *ever* .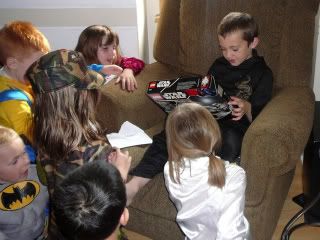 More Star Wars Lego!!!