Hmm...what have we been up to...
Cleaning. My in-laws are coming this weekend for a birthday dinner, and so I've been cleaning/shopping/making the menu/etc. Scott is helping by doing whatever I tell him...but I think I have been elected to be in charge of it all.
My niece has been visiting between my mom's house and mine. I see her coming up the walk with her bag of groceries (she's vegetarian now and comes equipped with her own stash lol) and just can't help seeing the 4 year old girl that used to spend the day with me doing crafts, before I had kids of my own. I lub her to pieces <3 . She wears this giant Ozzy Osbourne belt buckle with her skinny jeans, and knows every Foster's Home for Imaginary Friends episode, and she *only* listens to old rock...AC/DC, Guns 'n Roses and Ozzy. We had so much fun yesterday...we were at Home Depot looking for a few things, and I'm studying shelving units...then I hear behind me in this teeny, screechy voice:
"I like chocolate milk", a la Cheese (
Cheese on YouTube
)
...and I nearly peed myself, laughing so hard. I couldn't read the labels on the shelves anymore because I had tears in my eyes lol.
Kylie is done with her Coraline book report. This is the model of Coraline's flat that she came up with...it looks like a book, and when you open it up you get: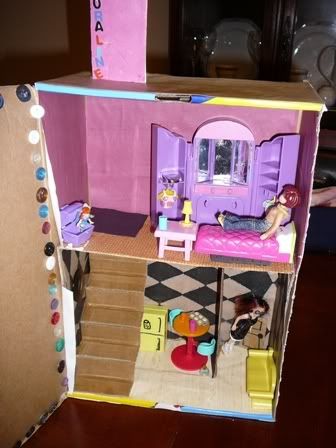 The lower pic is the evil/alternate mom with her evil button eyes. It's hard to see, but under the table, on the floor, there is a mouse scurrying about with a magic marble on his head. Scary stuff. She used Polly Pocket furniture and raided Gramma's button collection for props.
Kylie's book stash for the week. We went to a new library on Sunday, because our local library was closed, and Kylie was tickled to see that this library has a very extensive anime collection. Or is this manga? I don't know the difference, to tell you the truth. We also found this great felt craft book, and we have been making up little felt bunnies and lizards like crazy. I took some pics of the ones we made, but they are on my phone...and I can't figure out how to get them to my PC. Figures.
And Sammy Sunshine figured out how to get her diaper/cover off. Lovely lol.