Sam's Christmas shoes, made with this pattern:
Mini Moc pattern
It's super, super easy and you can make it with just scraps you have laying around. Someone gave us a nice Christmas dress for Sam, and I wanted some shoes to go with it, but I wasn't interested in paying for them (cheapskate, remember?). I also wasn't interested in buying new fabric, and I was out of leather scraps...so I looked around and found an old pair of Jacob's sweatpants with a hole in the knee (it had been sitting in my mending pile for so long that he had outgrown them LOL). I also found some lace scraps in my stash. Put them together, and this is what you get. I went through my ribbon box and Kylie's bead box to embellish them a bit. They're sort of like Robeez, where there is elastic at the ankles and they are un-kickable. Great pattern.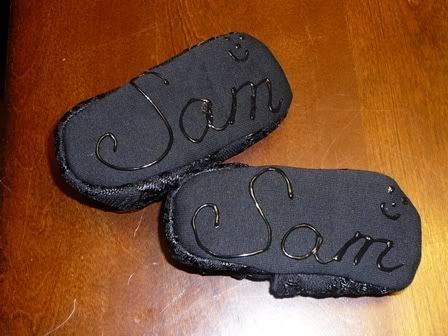 The bottom of the shoes: now that Sam is walking around furniture, we needed a non-slip grip on the bottom. Again, I searched through my junk until I found some black fabric paint...works very well.
...and just a cute picture of my baby with blue candy all over her face :D .