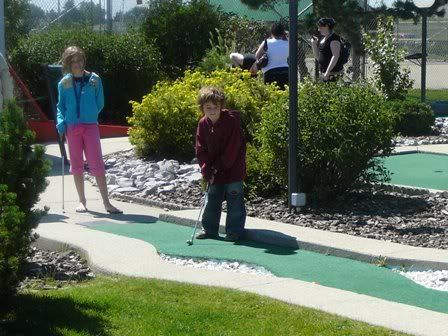 Mini-golf at Whitemud Amusement Centre. It was really fun, although there were a lot of people there. I golfed the first nine holes with the big kids while Scott looked after Sammy and then we traded for the last nine holes.
Getting ready to go-kart. Kylie was having no part of it, so we sat out and watched while Scott and Jake went for a ride.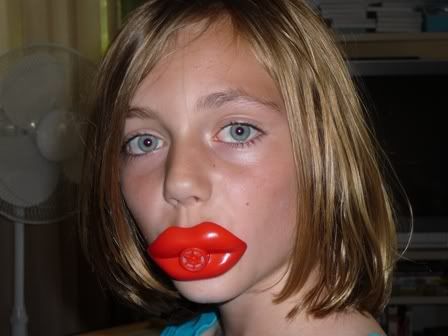 Library Lips. Kylie got to pick a noisy prize at Stop 7 for the library game (after you read every night for a week, you move your game piece on a giant game board at the library). You're supposed to read for 15 minutes per day, but Kylie hasn't taken her nose out of her book for 3 days. She got 5 books in one anime series and has been reading non-stop since Tuesday.
We've been swimming lots this week: O'Leary, Millwoods and ACT Pools. O'Leary is my favourite, lots of toys and fun for big kids and little ones. Millwoods is dirty and the kiddie pool is too small and not near enough toys to go around. I don't know how anyone keeps track of their little kids in that retarded wave pool...I was really disappointed. Especially because we drove all the way across town to go there.
Today is Sunday, and it's my MIL's birthday. I have to go get her a gift (because Scott knew about it all year and FORGOT until today LOL) and then Sammy and I will go walk the mall, I think. Scott has taken Jake to play tennis, and Kylie has gone with my mom to the Heritage Days Festival. I remember being dragged there as a kid...I hated it. Too many people, lineups for food and drink way too long, super boring...but Kylie enjoys it so she will keep my mom company today.
Have a good day, everyone :D .