The tree with our special angel on top :) . Scott put the tree together and put up the lights, I put on the garland, and then we sit back with our coffees while the big kids decorate it. I love me a crazy tree.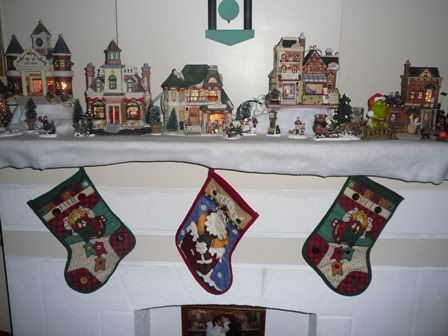 The stockings, hung by the chimney with care. Auntie Sheri made all of them, with pretty buttons and such tiny, careful stitches.
Santa heading over the bridge to deliver his presents. But wait! Does he know what lies on the other side of the bridge???
Eek, it's Halloween town! Poised to attack Santa and his sleigh full of gifts. I ask every year: who would win in a fight between Christmas Town and Halloween Town? I have my money on Halloween Town, I think they would fight dirty.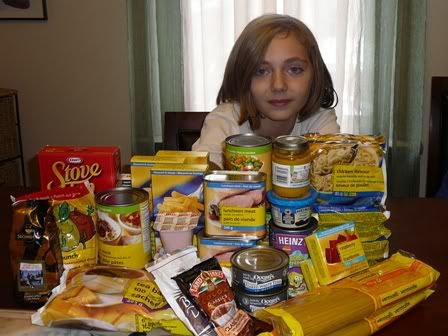 I talked to the kids about what charity we should donate to this Christmas, and we tossed around the idea of donating toys to the Stollery Children's Hospital and a couple of other places...but the kids thought that food was more important and that we should donate to the food bank, like we usually do. So we went through the pantry and pulled out a few things, talked about what the food bank needed and then purchased a few staples like pasta, tea and canned meats. Then I take a picture of each kid with their donation and put it in a card for their teacher, with this letter:
Dear Mrs. H.,

Thank you for a great school year so far! We wish you and your family a very
Merry Christmas and a Happy New Year.

In the spirit of the season, our family has put together a parcel for the food bank, which we will donate in your honour.

Merry Christmas!

From,
The T Family



Traditionally, we only buy gifts for children and our parents at Christmas time, but we wanted to show our appreciation for the kid's teachers in some way...this is how we do it. More and more, I'm against buying 'stuff' just for the sake of buying 'stuff', and I think donating to a charity in a teacher's honour at Christmas teaches the children a little something, too. For the pictures, I just piled up half the food on the table...so there is twice as much food going to the food bank as shown.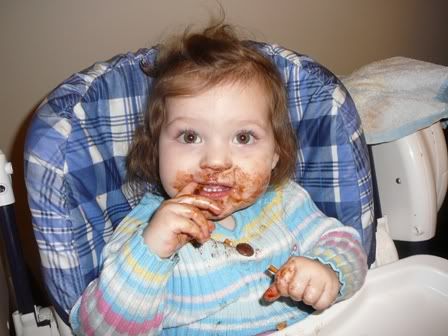 ...and a picture of my baby with chocolate all over her face, just because it's really cute :D .