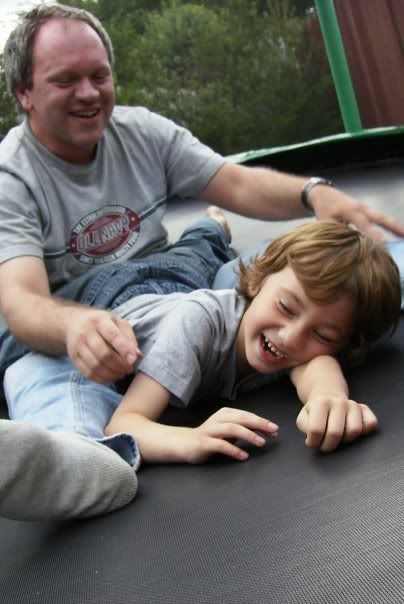 Jacob and Uncle Terry (Scott's brother) on the trampoline. I think Terry won ;) . I had to steal this picture from Kylie's Face Book page...I have no idea how to get at her uploaded photos on the computer LOL.
The house is so quiet...Scott has taken the big kids, along with his Dad, to Saskatchewan for a family reunion. It's a 7 hour trip and they're staying in a hotel, and I don't exactly relish the thought of travelling that far with a baby so Sammy and I stayed home. As I'm getting older, hotels creep me out...other people have slept in those beds (ew), and the chemicals they use to clean the sheets make me very wheezy. And I totally wear shoes on hotel room floors, just like Kate!!! I keep them on the floor beside my bed so I can wear them as soon as I hop out of bed. Yuk, yuk, yuk.
So Kylie turned 10, and she asked for a digital camera for her birthday. We got a great deal on a HP camera at Canadian Tire and she is loving it! It was on sale, and then we had $16 in Canadian Tire money saved up so it couldn't have been any cheaper. Within the first hour, she figured out how to add borders, how to shoot videos, and how to edit the pictures right there on the camera. I love that camera, it is exactly perfect for her. She has taken it everywhere with her since her birthday, and happily took it with her to Saskabush.
On the night of her birthday, we went to Red Robins...Kylie's favourite restaurant. She had salmon and fries, and I had a burger (gawd those are good burgers). It's been at least 2 months since I've had a burger so I indulged. It was soooo worth it LOL!!! I discreetly mentioned to the waitress that it was Kylie's birthday, so of course they come by with a sundae and make Kylie stand on her chair so they can sing her Happy Birthday...Kylie was embarrassed...no, she was
mortified
and then wouldn't talk to me for the rest of the evening. I apologised profusely...I would never want to hurt her, and I was so sorry that I said anything to the waitress. I took a couple of pics with her camera and of course she promptly deleted them. Oh well...I guess I know for next year LOL. She's talking to me now, and isn't mad anymore. My gosh, she's 10...and acts like she's 15!
Today was my niece Seanna's last day at Rocker Girl Camp. She went to day camp all week and today was the final concert. Her band played their original song (Seanna played acoustic guitar and rocked, of course). Seanna can now play guitar, bass and piano. And she's only 13 :D . Sammy sat so quietly through the whole thing...she even boogied a bit on my lap :D . Afterwards, we went to my mom's for soup (of course) and then we went for a long, long walk. Now I am all alone in my very quiet, creaky house. I hate it when Scott's gone, but normally I would take one of the big kids to bed with me...tonight I'll be all alone (eek).
Saturday, I'm taking my serger in to get the timing fixed. It's been off since I tried to serge some too-thick diaper liners and it's finally irritated me enough to do something about it. I hope it's not too expensive to fix.
Have a good weekend, everyone!