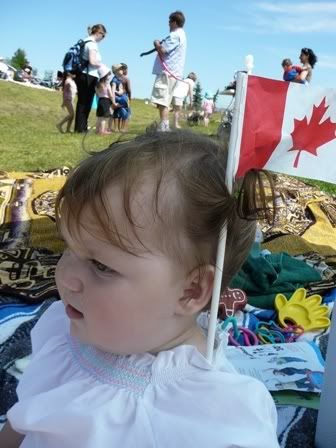 Today we went to the Baumaris Spray Park in Castledowns to celebrate the day :D . Jacob invited his friend E, and then her mom and brother decided to come along. We threw down a blanket and ate a picnic lunch, while Sammy sat in the shade of the umbrella and played. There was free cotton candy, tattoos, cake, etc...so much fun. We went last year as well...I think this will be a nice family tradition.
My father-in-law phoned bright and early this morning to wish us a Happy Anniversary...which reminded me that it was my anniversary LOL. I guess that happens when you have kids and a busy life...you forget these things??? I've never forgotten it before. But Scott forgot too, so I don't feel so bad. We don't do anything special to celebrate...just a hug and kiss and then we'll think back to what it was like to be two young kids in crazy love LOL. I luv my guy to pieces...he's definitely one of my favourites LOL.
It was beautiful today, a high of +26C with a little breeze. Nothing like the +32C that it was yesterday (blech). Thank God for my portable air conditioner...I hate the heat.