Kylie, at the butterfly exhibit at Capital Ex.
Kylie and Jacob in
Watson, Saskatchewan
. They have Santa Clause Day, and there is sort of a Christmas theme going on there.
Even the trash cans are Christmas-y.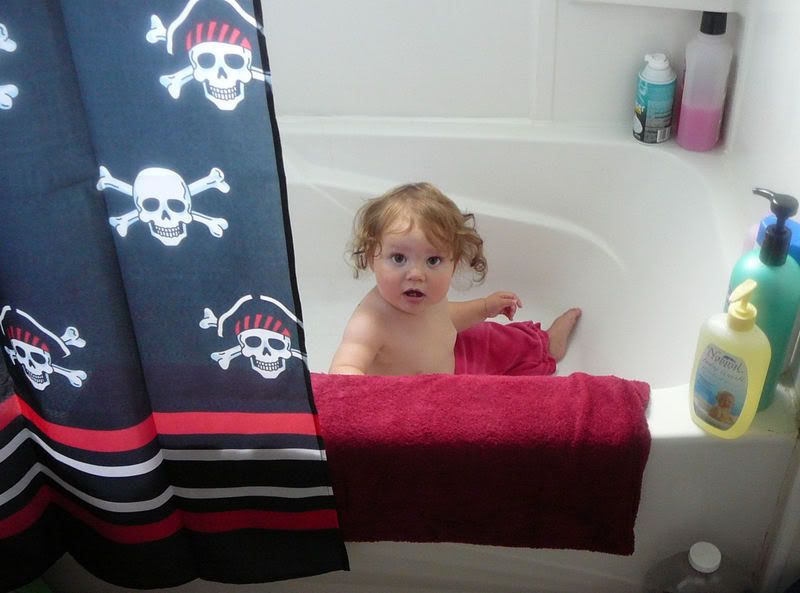 Sammy, confined to the tub, while I clean up the case of explosive diarrhea that she had LOL. Yes, that's what I said. If you look closely, you can see it on her right shoulder. We tried her on a little bit of homo milk and that just bunged her up...so we tried a jar of baby prunes to rectify that problem. Well, I can honestly say the prunes worked! Never, in my motherhood career, have I experienced this...it was all the way up her back, right up to her hair, it was all over me, all over the high chair...there are more pictures but I don't have the nerve to post them. And then I'm sure Nicole would take my precious
award
away LOL.
Point of interest...one day Kylie wanted a note to skip gym class because "her tummy hurt". Yeah, right. So I wrote a note to her teacher, asking that he excuse Kylie from gym class because she had a case of explosive diarrhea (I saw it on South Park once). I handed her the note: she ripped it up immediately, as she was all horrified and embarassed, but she was still laughing...and she never asked for an excuse note again :D