Soccer season is over! Jacob had a lot of fun, but he was ready for it to be over. Too many fun things to do on the weekends besides soccer now that summer is here.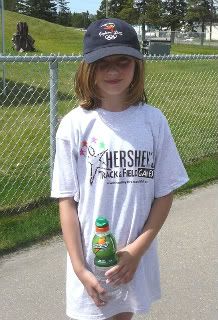 Kylie ran in the provincial finals this weekend (Hershey races). The best placers will go to Hershey, Pennsylvania to run there...I don't know how she did, but I don't think any of our school's kids made it to finals. Doesn't matter, Kylie had a great time running with her classmates.
Sammy, just looking cute while Jake played soccer.
Gramma went to Cirque du Soleil and brought back a clown nose for each of the big kids. You knew my family was a bunch of clowns anyway. That's my eye in the corner...you saw a picture of my foot a couple of weeks ago...maybe in a few weeks I'll post a pic of my hand...sooner or later you'll get an idea of what I look like. Bwah ha ha.