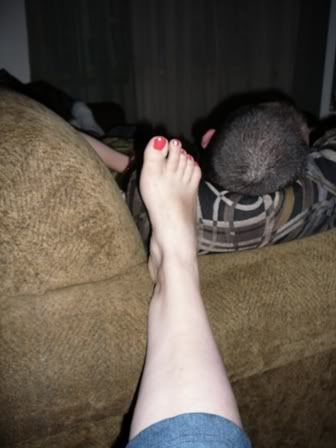 This is a picture of my big foot beside Scott's head as he slept peacefully with Jacob on the sofa. I'm not sure that if he was awake, that he would like my big dirty foot right beside his head at the end of a long day LOL.
Kylie, Auntie Sheri and I all went for pedi's today. Honestly, it's not my thing to do girlie crap, but I do like pretty toes in the summer :) . I chose a coral colour and Kylie got a glossy ruby red. Sheri got a sort of coppery-red color. Then we had ice cream at Marble Slab and went home.
Sammy was so miserable when I got home...although she did smile at my boobs LOL. But after nursing, she just cried and cried! I checked her diaper and realized that she had a rash all over her trunk. She had been at Gramma's for a little bit in the afternoon, but Gramma didn't feed her anything weird. All Gramma did that was different was change Sammy's shirt, so maybe Sammy's skin didn't agree with whatever laundry soap that Gramma used. After a shot of Benadryl and a bath, she seemed ok.
In the evening, we watched Austin Powers and everyone but me fell asleep in the living room. Then I put my foot by Scott's head and took a picture :D .